CLICK TO CLOSE THIS WINDOW
COMPLETE POOL PACKAGES STARTING AT $1899
CALL 888-277-7665 FOR SPECIAL OFFERS
WE WILL BEAT ALL COMPETITORS PRICING
PHONES OPEN FROM 10AM to 6PM - 7 DAYS A WEEK
Shop Pools >>
Above Ground Pools and Reviews

Before you buy an above ground pool, please read all of the important information below to become a better informed shopper.
Click here to view all USA manufactured above ground pools
When shopping for an above ground pool you need to consider many options such as what size of pool, what shape of pool and what type of pool wall and components. One this that you may not consider is where your pool is made. Many pools are made in Japan and China these days to save on costs. We are not going to say that there is anything wrong with these pools, however we want to point out a few keys aspects of your purchase of an above ground pool for your family.
The first thing you will need to understand is that any of the websites that list above ground pools for sale through our system must sell pools made ONLY in North America. For the safety of families across the country we do not allow sales of swimming pools that are not made in North America.
You should consider the origin of the pool that you are purchasing and how will the warranty be handled? The pools sold by the websites listed in our network are mainly from Swim N Play, a swimming pool company in Rahway, NJ who has been in business for over 50 years. They stand behind their product and have been doing so for a very long time. Parts and service is only a phone call away.
Pools imported from overseas may have a low chance of getting warranty repair or replacement parts. Be sure to check out the company you are looking to invest your hard earned money and make sure that the manufacturer is a reputable one. The last thing you want to do is buy an above ground pool and not be able to get it repaired incase of a problem.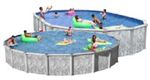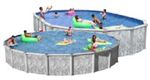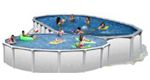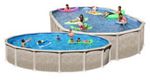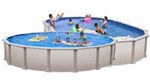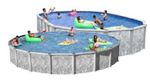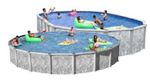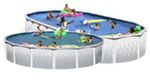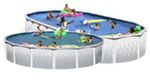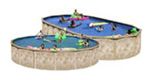 Location of where the pools are made should be considered. Asahi brand pools for instance are made in Japan. Their plant is located in Fukushima, Japan. As you know there was a nuclear disaster in Japan at the Fukushima Nuclear Power Plant Disaster in 2011. The address of Asahi is 9 Kaiui Ohboki, Shimokitaba, Hirono, Futaba District, Fukushima Prefecture 979-0402, Japan. We are not going to say that there is a problem with any pools coming out of Japan but you should be made aware of what you are buying and who you are buying it from. These pools are sold online and go by the following names: Mighty Sun, Belize, Tahitian, Samoan, Aqualine, Freedom SS, English Oak, Kingsley, Arcadia, Sienna, Marquis, Dynasty, Camille, Everest, Rushmore, Elite and many others.
Swim N Play Pools are made in the USA and are featured on our network of pool stores. Other companies such as Lomart, Doughboy and Wilbar are made in the USA, with Trevi being made in Canada.
There is a very good article that you should read before buying an above ground pool titled
"Where's the Steel"
. This
article
details a comparasion between Swim N Play pools and the imported Asahi Pools with the differences between the weight of the steel pools. Interestingly the Asahi pool comes in alot lighter in weight which means you are getting less pool for your money. Less steel can lead to a weaker pool structure and possible failure. More steel is a stronger pool.
Read this ariticle
to have a better understanding on what you get when you buy an above ground pool.
The bottom line is that you should do your research, and buy American when you can to help keep the USA as the best country in the world!
Click here to view all USA manufactured above ground pools